On Future Weather, The War On Drugs play a beautifully crafted mix of classic rock and shoegaze textures. Despite the absence of founding member Kurt Vile, frontman Adam Granduciel takes a command presence and establishes himself as singer-songwriter deserving the same praise as the greats he draws so much influence from. His Dylan inspired lyrics and voice work perfectly over the band's frantic mix of folk, punk and shoegaze. Check out my feature on the album for more.
Sun Kil Moon-

Admiral Fell Promises
On Admiral Fell Promises, Mark Kozelek, the man behind Sun Kil Moon and the late Red House Painters, sheds his band for an intimate album of classical guitar and vocals. Just listen to the intro to the first track, "Alesund," and you'll hear Kozelek delicately plucking away at his nylon strings in an almost flamenco style that he's used rarely before. And though Sun Kil Moon's earlier LPs were so interesting because of the way they could switch from acoustic folk ballads to droning, fuzzed out jams, the lack of stylistic variation does not detract from Admiral Fell Promises. This is still the same Kozelek, only stripped and unplugged. His lyrics are just as devastatingly personal as ever, his guitar playing just as top-notch, and his quavering voice still sounds on the verge of tears. Admiral Fell Promises wouldn't be the first Sun Kil Moon album I'd recommend. Newcomers will undoubtedly grow tired of his extensive and simplistic songs. The album is really more rewarding for more intense fans like myself who have come to appreciate his beautiful narrative lyrics and preference for repetition.


#13
Sufjan Stevens- The Age of Adz
After making some pretentious statement about "losing faith in the album as a way of releasing music," Sufjan returned in 2010 with the surprisingly electronic The Age of Adz. Though fans of his folk material will perhaps be put off at first, it doesn't take much to see that behind this incredibly textured electronic album are the same masterful composition skills that Stevens exhibited on 2005's Illinois. Trading banjos and flutes for fluxing synths and glitchy percussion, The Age of Adz's focus on electronics seems to match its themes of paranoia and apocalypse in a new era. It's ridiculous how ambitious Stevens is, ending the album with a 25 minute track that's just as compelling as of the album's shorter, more accessible ones. With a Radiohead-esque transformation, Stevens has proved himself to be a compositional genius not limited to just one genre.
With his third album, Gregg Gillis was in a precarious position. Despite the subtle differences between Night Ripper and Feed The Animals, Gillis' unique style of mashup is ultimately confined to a small space that doesn't allow for much experimentation. I'd assume Gillis had this confinement in mind when sometime after Feed The Animals he expressed interest in using more verse-chorus structure on his next album. Luckily, he didn't follow through with that potentially boring idea on All Day. Instead, the album combines the strengths of Night Ripper and Feed The Animals to create a coked-out mixtape that manages to sound interesting and fresh despite sticking to Gillis' now trademark mashup formula. My main complaint with Feed The Animals was that a lot of it was just simple track over track layering, where Night Ripper had more of a creative input from Gillis, drawing on his glitchy background to chop up the beats. On All Day, the tempo varies a lot more and Gillis once again takes a more active role in the song layering. The most striking difference with the album is the song lengths. Most of the songs are about 6 or 7 minutes long. Some would argue that Gillis' track divisions are just arbitrary markings in a mixtape that is supposed to be listened to as one solid hour-long cut. But the longer song lengths represent Gillis' new penchant for letting certain mashups ride for longer than just a few seconds. Mashups like Jay-Z's "Can I Get A…" and the brilliant Ludacris/Phoenix pairing exceed past the minute mark, something that Gillis only began doing with Feed The Animals. With All Day, Gillis successfully avoids becoming trapped by his self-imposed boundaries and creates an album that experiments within and expands his style of mashup. Most importantly, throughout All Day, you can hear, see and feel Gregg Gillis, although he's not using a drop of original music. That creative identity is what will allow Gillis to thrive even within this hyper-formulaic genre.
I feel like "and he has a Ph.D in math!" is the hippest thing you can say when having a conversation about Caribou. I constantly flip back and forth between considering it just a pretentious side note or some kind of justification for Snaith's unique music. His incredibly complex compositions seem to suggest some sort higher-level understanding of music. On Swim, Snaith trade the intimate electronic folk of Andorra for liquid dance tunes without missing a beat. Album opener "Odessa" is an infectious mix of throbbing bass, diverse percussion and Snaith's airy vocals. The precision with which Swim is executed gives each song an almost mathematic feel, like there's some kind of proof-based equation for each song. But maybe I just want to believe that.
#10
Deerhunter- Halcyon Digest
Despite how much I loved Microcastle, I didn't think it deserved quite the high level of praise that it received. My lukewarm reaction was probably why I waited so long to listen to Halcyon Digest. Boy, what a mistake. Halcyon Digest is instantly rewarding and Deerhunter's best and most focused work to date. What amazes me about the band is their constant evolution from album to album. From Cryptograms to Microcastle was pretty linear, a progression from psyched out punk jams to smaller songs that refined and built upon that same experimentation. Halcyon Digest is a little more surprising. The record is the closest to pop the band has come thus far. Bradford Cox sounds more like a frontman than ever before, dropping the strained moans and croaks for a more melodic singing voice. "Helicopter," the band's crowing achievement and one of the best songs of the year, has Cox singing beautiful melodies over soft guitar strums before exploding into a fuzzed out, blissful chorus. "Desire Lines" expands upon the punchy bass and weaving guitars of Microcastle. With Halcyon Digest, the boys in Deerhunter prove themselves to be masters of both reinvention and songwriting.
#9
Broken Social Scene- Forgiveness Rock Record
Broken Social Scene's comeback record also had me worried and intrigued about how the band would sound after not releasing a record together for five years. It's hard to imagine a more reassuring album. Less ambitious than their earlier records, Forgiveness Rock Record, much like The Suburbs, has Broken Social Scene trimming the fat and focusing on a core group and sound. That's not to say that the diversity the band is known for is lost. In contrast to the explosive opener "World Sick," the album's second track "Chase Scene" is driven by droning synths, choppy drum loops and angular violins. Other highlights are the devastatingly intimate 'Sweetest Kill" and "Sentimental X's," a beautiful blend of descending guitars, bass and throbbing organs. If their absence is what Broken Social Scene is seeking forgiveness for, they certainly need not worry. Their spot amongst the greats of orchestral rock remains unfilled and Forgiveness Rock Record is a comeback album that is both reassuring and provoking.
#8
Ariel Pinks Haunted Graffiti- Before Today
I got into Ariel Pink a few years ago when I stumbled across him on Wikipedia and decided he was worth checking after reading a few sentences of his biography. Given Pink's as the reigning king of lo-fi weirdness (from his extensive catalogue of elusive CD-R's to the fact that he recorded most of the drum noises on The Doldrums with his mouth), a lot of fans, including myself, were skeptical about his signing with 4AD and his decision to record Before Today in a studio. But as much as I almost wanted to hate the record, it is simply too good. The stunning production only accentuates and polishes the masterful psychedelic pop songwriting that Pink has had since the start of his career. Pink's eccentric vocal melodies are backed by the extremely impressive musicianship of his backing band. Inevitably, Pink sacrifices some of his weirder tricks for a more traditional approach to structure and melody, which means The Doldrums may always hold a higher spot in my heart. But the album's accessibility and Pink's newfound clarity make the record one that can be listened to people who were turned off by his older material. In fact, without the production the tempo changes, subtle bass melodies and guitar interplay on songs like "Revolution's A Lie" or "L'estat (Acc. To the Widow's Maid)" might very well have been lost. Before Today will certainly offend lo-fi purists, but the album refuses to let Pink's brilliant psychedelic take on pop music be ignored.
#7
Big Boi- Sir Lucious Left Foot: The Son of Chico Dusty
There's not much to say about Sir Lucious Left Foot that hasn't already been said. Big Boi spits, stumbles and swags his way all over diverse beats from some of hip-hop's finest. From the metallic stomp of Andre 3000's "You Ain't No DJ" to Scott Scorch's mindblowing pulsating beat on "Shutterbugg," Big Boi's unique Southern drawl is always backed by an equally impressive beat. There are some features that are cringe worthy; "Follow Us" could be one of the year's finest songs if it weren't for that god awful chorus by Vonnegutt. I was never much of an Outkast fan but the influence and demand for respect that Big Boi held with them is certainly carried over here.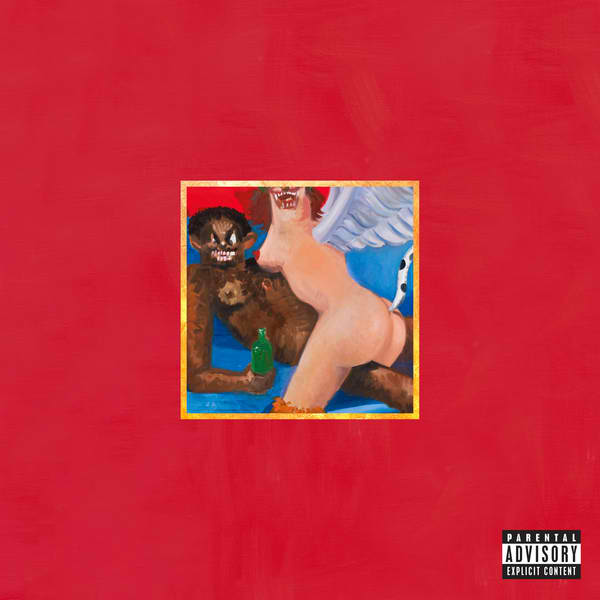 #6
Kanye West- My Beautiful Dark Twisted Fantasy
I never thought I would be listing a Kanye album in my top 10. I had a really strong hatred for him prior to this album. I refused to listen to it for a while. But as much as it pains me to say it, My Beautiful Dark Twisted Fantasy is just too damn good. There is just something… unbelievable about it. No matter how much you hate the man, the things he says on this album just refuse to be ignored. The whole thing has this larger than life quality. It's so successful in its goals of self-indulgence and grandiosity that it's hard to be anything but impressed and floored. Importantly, West takes more of a producer role, offering the spotlight to the (sometimes questionable) featured artists, something that made this album easier to like being a Kanye hater previously.
What keeps the album from "classic" status is how important the context is to understanding the album. You have to understand the year of idiotic publicity stunts and pretentious bullshit that Kanye went through before making this to understand what he is saying here. It's an album of confessions, as wells pleas to be taken both more and less seriously. When it comes to hip-hop, good lyrics are usually a top priority. I tend to hate most of this stuff that relies more on swagger, flow or a uniquely obnoxious style. But with My Beautiful Dark Twisted Fantasy, Kanye seems to prove that it doesn't always matter what you're saying but how you say it.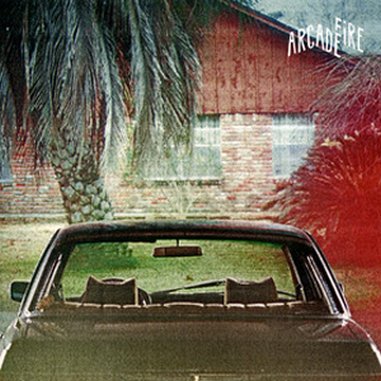 #5
Arcade Fire- The Suburbs
There's something about that final triumphant violin melody in "Rebelion (Lies)," off Arcade Fire's debut LP Funeral, that makes it sound instantly nostalgic and timeless. It's like it's some melody that you heard when you were a child that you are now finally rediscovering. Funeral is full of melodies like that. The group has a way of writing songs that can somehow sound like classics, melodies hummed and repeated by music listeners for centuries.
On The Suburbs, the band wanders back from the ambitious diversity and dynamic experimentation of Neon Bible to the more traditional structure and approach of Funeral. More than ever before, Arcade Fire sounds like a compact, tight band. Even more noticeable is Win Butler's assumption of the role as 'the frontman.' The Springsteen comparisons, rooted in tracks like "Keep The Car Running," are even more apparent on The Suburbs. I swear to god when Butler sings, "dreamt I drove home to Houston" on "City With No Children," it sounds exactly like Springsteen, the lyrics even drawing on the same Americana roots found on Born In The USA (ironically, they're Canadian). Though the symphonic violins and pianos are still found throughout the album, exaggerating each songs' melancholy melodies, the focus is more on the traditional guitar, bass, and drums set up. Take the end of "Modern Man," where dual guitars blend and harmonize to make a riff that Broken Social Scene would be jealous of, or "Month Of May," an unashamed, energetic punk rallying call that prepares us for the record's breathtaking final stretch.
And despite the band's knack for writing timeless songs that recall somber memories of some lost decade, on The Suburbs, they still manage to sound so contemporary. Whether it's the piano-driven saloon rock of the title track, which calls to mind bands like The Good Life or Okkervil River, or the heavy folk thump of "Wasted Hours, which screams Grizzly Bear, Arcade Fire imitates and draws upon the music of their peers in a way that is distinctly theirs.
Some of the criticism about The Suburbs concerns its lyrical content. Butler ponders questions of mortality, innocence, love and loss within the context of homogeneous American suburb. We enter the emotional wasteland of the sprawl. It was the dark lyrics and generally darker feel of Neon Bible that turned off many fans to the bands second album. The Suburbs is more true to Funeral. Yes, the music is often dark but there are those beautiful, uplifting melodies, like the ones in "Suburban War" and "Sprawl II (Mountains Beyond Mountains)," that make the album more bearable and fluid.
To me, a more valid criticism is one that examines Butler's vocal delivery. Although his lyrics and melodies are still superb, the intensity that he once exhibited on Funeral is nearly absent. The yelps and pained screams of songs like "Neighborhood #2 (Laïka)" or Neighborhood #3 (Power Out)" are gone. Only "Ready To Start" and "Rococo" have an intensity that warrants comparison to his earlier vocal performances. The latter is the album's finest track. The drums beat out a heavy solider march while violins swell and the guitars explode into perhaps the heaviest progression in the band's repetoire.
"2009, 2010, wanna make a record like I felt then." Normally, I would cringe at such a self-referential and fourth-wall-breaking lyric. But when Win Butler shouts it on the cathartic standout "Month of May" over pounding, blaring guitars, I not only enjoy it but also want to commend Butler for his achievement in doing so. I don't think The Suburbs fully embodies everything we felt in 2009 and 2010. But its themes of emotional sprawl, uniformity and soul searching, are nevertheless instantly relatable and perhaps more connected to our overall situation than we think. But The Suburbs comes at a time in the band's career when it was incredibly important to show that they were in touch (or as Carles would put it, "still relevant"). The album's contemporary influence pairs well with the band's general timelessness to create an album that is relatable, powerful and successfully ambitious. The Suburbs is a solidification of the band's importance and a celebration of their unique and beautiful style.
#4
Tobacco- Maniac Meat
Tobacco emerged in 2010 from his world of fucked up 80s work out videos to give us Maniac Meat, a more polished take on his unique brand of psychedelic hip-hop. The tracks don't have a much of a lo-fi crackle, but Tobacco still manages to retain his psychedelic sensibilities and explore a variety of different styles. There's the demonic croaks of "Sweatmother," the drugged, FlyLo-esque intro of "TV All Greasy" and the steady bass thumps of "New Juices From The Hot Tub Freaks." He even scores two guest vocal features from Beck, which reaffirms the album's weirdness. "Creepy Phone Calls" is the best track Tobacco has ever done. Its heavy percussion, blaring synths and ticking bass give the track an infectious feel that Fec's been inching toward and toying with for years now. Once again, Tobacco has created psychedelic, textured and downright weird dance music not for the faint of heart or mentally unstable. Hip hop has never been so terrifying while being so fun.
#3
The Tallest Man On Earth- The Wild Hunt
Strange that one of my favorite albums of the year should be one that I have barely listened to since it came out. Because of things that happened in my personal life around the time that The Wild Hunt came out, I honestly didn't listen to the album for a good 8 months because I would just start sobbing. Personal experience aside, I think that The Wild Hunt is one of the most emotionally devastating and heartbreaking albums I have ever heard. Using only acoustic guitar (and piano for one track), Kristian Matsson manages to make one of the most traditional acoustic folk albums deserving of a spot next to Dylan's Another Side of Bob Dylan and Bonnie 'Prince' Billy's I See A Darkness. Matsson's doesn't conceal his love for Dylan, utilizing an eerily similar scratchy singing voice and referencing "boots of Spanish leather" in the album's single "King Of Spain." Much like Admiral Fell Promises, The Wild Hunt finds its beauty and strength in its brutal intimacy. Matsson's extremely impressive guitar work complements and weaves beneath his trembling poetic lyrics. When I was finally able to this album all the way through the other day, not surprisingly, it was still as emotionally flooring as the first time I listened to it. Miles better than his first album, The Tallest Man on Earth's The Wild Hunt is a timeless artwork that is worthy of it's Dylan comparisons.
#2
Flying Lotus- Cosmogramma
Describing electronic albums is always difficult. Indeed, no words could ever fully capture the indefinable charm and power of Flying Lotus' Cosmogramma. The music builds upon FlyLo's love for off tempo rythyms, genre hopping and a psychedelic palette of sounds. But whereas Los Angeles had a distinct track-to-track incoherency that made it feel like a traditional collection of beats, Cosmogramma is truly meant to heard as one symphonic piece. In the absence of vocals and lyrics, Ellis uses recurring motifs and intricate phrasing to create a flow for the album that makes it truly sound like some sort of opera from an alien planet. In a year full of excellent psychedelic instrumental hip-hop, Flying Lotus holds a place as both a forefather and reigning king of the genre.
#1
Pantha Du Prince- Black Noise
Pantha Du Prince's third album Black Noise is a beautiful, blissful and expansive work of minimal techno that holds a place in the genre next to The Knife's Silent Shout and The Field's From Here We Go Sublime. The textures on Black Noise are so rich and multifaceted, it's difficult to believe that only one man is behind this. Hendrik Weber builds fascinating melodies and layers of psychedelia over heart-pounding beats. And there's just something so strange and unfamiliar about the way he layers Panda Bear's vocals over "Stick To My Side" that just floors me every time. Those eerie, atonal chimes that ring in every track just strike some extrasensory chord somewhere in my body. Black Noise is the most rewarding release of the year, one who's rich textures and compositions I still have yet to even fully grasp.
Check out the honorable mentions for best album of the year